State of Care is the annual assessment of health and social care in England. The report looks at the trends, shares examples of good and outstanding care, and highlights where care needs to improve.
https://www.cqc.org.uk/publications/major-report/state-care?banner=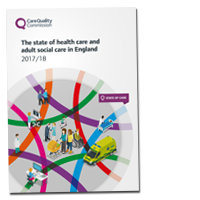 This year's report finds that most people in England receive a good quality of care. CQC ratings show that quality overall has been largely maintained from last year, and in some cases improved, despite the continuing challenges that providers face.
Some people said the outstanding care they have received and how some individual services have changed their lives for the better. Others told about the poor and sometimes disjointed care they have received.
CQC found that people's experiences of care often depend on how well local systems work together where they live. Some people can easily access good care, while others cannot get the support they need. They may experience disjointed care, or only have access to providers with poor services.
This builds on Beyond barriers,  looking at how services work together to support and care for people aged 65 and over.