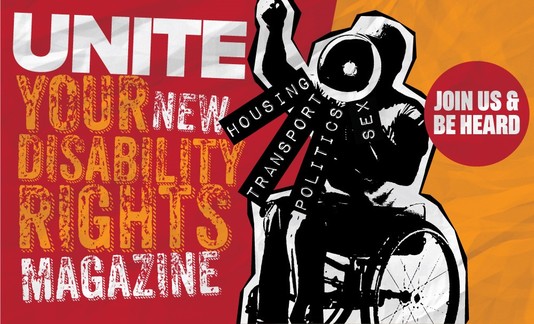 Disability Rights UK is pleased to announce that we are working in conjunction with UNITE Magazine.
New Disability Rights Magazine Out Now!
UNITE is your new disability rights magazine. Out every month, UNITE covers a wide range of topics from accessibility and housing to universal credit and mental health campaigns.
Previous issues have covered the social model of disability, PIP assessments, the fight for more Changing Places facilities, a look at the delays experienced through NHS wheelchair services, as well as regular columns from Mik Scarlet and Sarah Brisdion.
UNITE have introduced a 'Know Your Rights' section that covers a different area each month. UNITE talk to the relevant experts to highlight the rights of disabled people in various situations, future issues will look at your rights in regards to public transport, discrimination, accessibility and benefits, among many others.
UNITE also offers readers a page to express their views on a topic that they are passionate about, if this is something of interest to you email ros@unitemagazine.co.uk.
Don't miss your next issue, subscribe to UNITE for only £8.40 with 30% off by using code unite17 at the checkout, click here to subscribe today!
Facebook: @UNITEMag
Twitter: @UNITEMag
Instagram: @UNITE_Magazine